About Us
Pine Ridge Swim Club is a private, family oriented organization located in the Carney/Cub Hill area of northeast Baltimore County. It has been a major part of the community for over 50 years, offering affordable family memberships, excellent pool and ground facilities and great social functions for all ages.
Socially, Pine Ridge can be a very inexpensive way to entertain the whole family. From Welcome Back parties, pizza parties, spaghetti nights, movie nights, karaoke nights, sip-n-dips, crab feasts & the annual Corn Roast we pride ourselves in providing a friendly, family atmosphere that caters to all ages.
Pine Ridge is the most reasonably priced and active swim club in the area where you get the most for your money. It you are looking to make new friends, relax and have some fun with the family come by and check us out! You will be pleasantly surprised to find all of this so close to home!
Grounds & Facilities
Nestled back in the trees, off the main road, Pine Ridge has large spacious, well maintained grounds that offer something for everyone!
25 meter pool with 6 swim lanes
Diving well
Baby pool with water fountain
Covered snack bar (reasonably priced)
Large grass area with umbrellas
Bath house with changing areas & showers
Children's sand box
New playground
Two pavilions with picnic tables
Large open deck overlooking the pool
Large brick grill
Several free-standing picnic tables & grills
Sand volleyball court
Horseshoe pit
Basketball court
Ample convenient parking
Trained, certified & friendly staff
Access to Baltimore County tennis courts & ball fields
Officers
President:
John Ciliberto
Vice President:
Jesse D'Alonzo
Treasurer:
Gene Herron
Secretary:
Mary Burton
Board Meeting Minutes
Contact us if you are unable to access the link.
Board of Directors
Membership:
Jacob Rolon
Social Media:
Meagan Downey
Social Events:
Rob Warner
Swim Team:
Dawn Cain
Pool & Grounds:
Kevin Coyle
Rob Gray
Bob Brittingham
Sponsorship:
Jesse D'Alonzo
Web & Communications:
Meagan Downey
Grounds & Facilities
The pavilions and upper deck are available to all pool members when not reserved for special events.  If you would like to plan a party or special event at the pool, you can reserve an area by following the procedure listed below:
A tentative reservation can be made by using the reservation form on the website.  In season, reservation forms will be available at the pool.
The reservation will not be finalized until your membership has been verified, the date is approved, and the deposit is received.
The deposit fee is as follows:

$75 for groups of 25 or less
$125 for groups over 25 people

Deposit must be received within 14 days once the date is verified, or at the time of the reservation, if made less than 14 days before the event date.
Parties larger than 25 must notify the manager a week in advance so staffing will be adequate.
The deposit will be refunded if the area is cleaned up and decorations taken down after the event.
A list of the guests must be provided to the manager before the event, the fee for these guests is $5 per person. Any extra guests not named on the list will be $8 per person.
All guests, both swimmers and non-swimmers, are required to pay the guest fee and wear a guest band.
The manager must be notified of cancellation a day in advance, or the deposit will be forfeited.
Reservation fee needs to be paid by cash or check, so that it can be returned if applicable. If you prefer not to clean up after your party, feel free to pay the deposit as a cleanup fee by credit card on the website or by Venmo @Piranha-Pineridge.
Please return the completed Request Form to the Pool Manager via email to [email protected]
Thank you!
– PRSC Board
Two Pavilions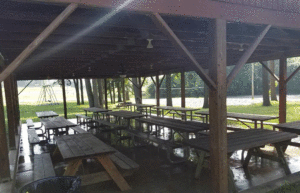 Both pavilions offer covered, open-air spaces with lots of picnic tables, perfect for larger groups or events.
Upper Deck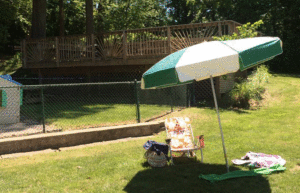 Our upper deck offers picnic tables and is conveniently located near the pavilion and pool.
Thank you to our 2023 Sponsors!